BahRamGoToHellOscars
by Fief
You'll surely read this article thinking "Um, shouldn't that poor bitter hokey guy have written this back in '96 or something, m'kay? There's really not much happening with the 'Talking Pig' genre nowadays, m'kay. He must be in some kind of sacred pig cult."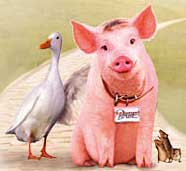 But I really don't care that that's what you'll think.
While my words may have been more "timely" or "pertinent" or possibly more "compelling" and "emotional" in March of 1996, let me remind you of what your high school American history teacher school so creatively and importantly told us when we queried about why we weren't studying the recent events like the Vietnam War or the all important Gerald Ford years: "One needs a certain distance from history in order to approach it with any objectivity."
That said, it's been about four years now since the Chinese astrological calendar's Year of the Pig turned out to be the Academy's Year of the Shaft.
I'm talking of course about Babe and the 1996 Academy Awards.
And I'm writing a lot of one-sentence paragraphs.
Nominated for seven awards, let's recap the nominations and parenthetically note the actual winners, shall we?
1. Best Picture (Winner: Braveheart)
2. Supporting Actor - James Cromwell (Winner: Kevin Spacey)
3. Director - Chris Noonan (Winner: Mel Gibson)
4. Adapted Screenplay - Chris Noonan, George Miller (Winner: Emma Thompson)
5. Art Direction (Winner: Restoration)
6. Editing (Winner: Apollo 13)
7. Visual Effects (Winner: Babe)
Yep - seven nominations. Not too shabby, eh? Pretty decent, you say, for a talking pig movie. Charlotte's Web never got that far. I mean sure, I'll bet the book got a Newberry Medal or Caldecott Award, but the real moral presence was Templeton the Spider, not the unwitting and unknowing Charlotte. I don't even know if Charlotte's Web went to the big screen or went straight to the $1/night kiddies bin at the video barn near you.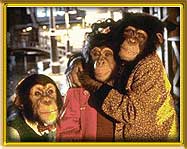 To the ever-so-mild defense of a couple of the Academy's choices here, I'm going to cede the best supporting acting Oscar to Kevin Spacey, since he actually is a really cool talking pig with a good make-up artist who makes him look human.
Maybe it is that Emma Thompson's adaptation of Sense and Sensibility was just swell. I'm no expert, but the period-piece-fanatic, costume-drama-loving, flaming-homosexual-literary-snob hiding way way down deep in my gut and my soul is screaming to me that the BBC miniseries of Pride and Prejudice was soooo much more Fabulous, and that Thompson only won because everyone felt sorry for her about Kenneth Branagh's philandering ways.
So those two awards granted, can we talk about the Braveheart factor at that award show? Mel Gibson as director -- hmmmmm.
Mel Gibson as director -- he's behind the camera instead of having the camera on his behind, hmmmmm.
Mel Gibson as director -- I hate to break into H. Ross Perot lingo jive talk, but that's just sad. Was the academy having a low self-esteem year as a result of the Woody Allen - Soon Yi fiasco that it felt Mel deserved best director? Was it sniffing a bad batch of the crumbly white powder left over at the bottom of a canister of Altoids when all the actual full-size mints are long gone? Man Alive!
After the Mel situation, I've arrived at the conclusion that the Academy must really just be a bunch of wicked undersexed middle-aged housewives who's People Magazine subscriptions ran out.
I'm so tense now I actually used the word "wicked."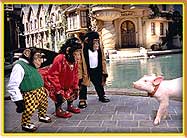 My thoughts/proposal about the Apollo 13 best editing award: Unless a sequel to "Splash" or "Big!" is made, Tom Hanks and the Oscars need to "take a time out". Tom needs to lighten up, and should start by absolutely severing all ties with Stephen Spielberg, Stephen King, SKG and stuff. Like Britain and the new country of the United States of America after the Revolutionary War. Sever all ties. Sever them. Cut. Burn. And then slowly, ever so slowly, slowly like I type, maybe create a little connection.
And I didn't see Restoration. I guess I don't like the costume drama period pieces as much as I thought I did. But then again, did anybody see Restoration?
Bottom line, gentle readers: during this year's Academy Award Show, don't watch. I recommend any and all of the following activities in lieu thereof:
1. Try to sculpt a double-helix out of Arch Deluxe Hamburgers and the fan belt from your uncle's 1984 Camsro, without separating burger from bun. It's harder than you think.
2. Try a new form of bowling. If you're a ten-pin man, then drive out to Fresno or Jersey City of Worcester and go Candle-pin bowling. Maybe even Duck-Pin!
3. Read the all of the Harry Potter books, all the while secretly thinking to yourself "Hey, that kid from The Sixth Sense would be perfect in the film version of this book! Damn, that's a good idea! What a magnificent casting director I could be! I'm amazing! And Julianne Moore could be...."
4. Review and Memorize past issues of RTC. After all when you die and go to heaven, and discover that Saint Peter (guarding the pearly gates) was the webmaster, he'll let you go right into Heaven through service entrance out back.
5. Start a serious letter writing campaign. The actual cause is of no importance. Just make sure to ask Angela Lansbury to be your spokesperson. People will listen.
6. Write screenplays that can be classified within the talking pig genre (any old C-Span coverage with Newt Gingridge will not cut the mustard)
Five Reasons Babe: Pig In The City Is Not For Children
5. Encourages children that Jellybeans = Dinner.
4. Kids will think that throwing pet fish into a dirty canal is heroic.
3. The well scene made me cry. And I'm 23.
2. If a child were to watch it with Fief's mother the child would hear her scream out "I HATE THAT FUCKING SNIFFING DOG IN THE AIRPORT! WHAT AN ASSHOLE!"
1. Randy Newman's Song "That'll Do, Pig" will drive any wee tot to an early suicide.
Eight More Movies That Are Not For Children
Forget saving 1 penny a day for kids in africa. Do your part and help kids at home. Walk the aisles of your video store and exercise your right to grab these movies out of kids' hands and walk them over to a very high shelf. Tell 'em RTC sent ya.
8. DELIVERANCE-(Ned Beatty in the talking pig genre, but definitely not in the way children might expect - - Squeal like a pig! Do it! Do it!)
7. THE OTHER SISTER- Garry Marshall may have given us Happy Days, but he'll only give the chill'un sleepless nights.
6. LES VAMPIRES-The ten hours it would take the tykes to watch this Parisian serial would surely keep them up past their bedtime. So let 'em watch Oliver Assayas' Irma Vep and send them to bed with sweet dreams of Maggie Cheung in their head.
5. FOLLOW THAT BIRD...STRAIGHT TO HELL!!!
4. PIMPS UP, HOS DOWN (Director's cut now on DVD!)
3. FREEWAY-Matthew Bright's modern take on The Little Red Riding Hood story filters in hookers, junkies, guys getting their faces shot off and other things that I can't remember being in the fairy tale.
2. CRASH-Kids sure do love bumper cars, but they shouldn't be exposed to J.G. Ballard's psycho-sexual story or James Spader until they are of legal age.
1. Ken Russell's WHORE