Mission Statement
About RTC
Spanking The Monkey
Links
---
PDF Files
Page One
Page Two
Page Three
Page Four
Page Five
Page Six
Page Seven
Page Eight
Page Nine
Page Ten
Requires Acrobat 3.0 or later
Dowload Acrobat
---

Subscribe to our mailing list for the latest news and updates
Cuckoo For Cuba Puffs
There's something of a Cuban invasion going on in this country lately. Wim Wenders' Buena Vista Social Club serves up some Cuban jazz, Ricky Martin shows us how to live "La Vida Loca," and coming this fall, Kevin Costner stars in the Missile Crisis drama, 13 Days (which, by title alone, suggests that it will be twice as long as John Frankenheimer's Missile Crisis drama Seven Days In May).
If you're looking to add a little more Cuba to your diet, consider these suggestions:
Michael Lalatozov's I Am Cuba When you look at the video box and see the bold "Martin Scorsese & Francis Ford Coppola presents" decree, you take it as a good sign until you remember Scorsese also presented us with the "I'm-dating-Illeana-Douglas" vanity project, Search & Destroy, while Coppola brought us the TV miniseries, The Odyssey. Ouch.
Fortunately, I Am Cuba lives up to its pedigree. Essentially a Cuban Triumph Of The Will, with its Pro-Castro vignettes, I Am Cuba is recommended to anyone who has drooled over the moving camera school of cinematography. The camera moves with such fluidity, it is easy to see the influence it had on Scorsese's tracking shots as well as the homage Paul Thomas Anderson paid with his underwater-in-a-pool shot in Boogie Nights. The camera flows off roofs, through fields, up buildings, over riots, through swamps, and down streets with an ethereal quality captured by Wim Wenders (again) in Wings Of Desire (and desperately missing from the sub-par "inspired by" City Of Angels). File under ILL CINEMA.
Other suggestions:
For those of you who prefer the library to the video store:
James Ellroy's American Tabloid, Elmore Leonard's Cuba Libre (optioned by the Coen Brothers), and of course, The Godfather Part II.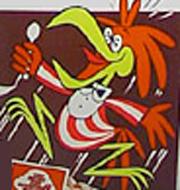 Mightier Than The Sword
What makes a good film critic? Some people might say a heightened sense of objectivity. I call those people fools. All you need is a stomachful of bile and a detached sense of self-restraint. Here's how it's done.
"Wild Wild West is a far cry from the series and even further from being a good film"
- Carl Cortez, EON Magazine (1999)
"Rainman is Dustin Hoffman humping one note on a piano for two hours and eleven minutes."
- Pauline Kael (1989)
"There are some films whose existence makes the world a worse place to live, and this is one of them."
- Kenneth Turan's review of 8MM (1998)
"Within the first five minutes, Emilio Estevez is dead. At this point, I'm thinking to myself, 'This could be the greatest movie ever made.'"
- Mr. Cranky's review of
Mission:Impossible (1996)