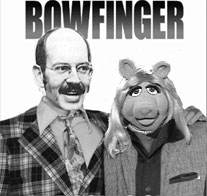 Advertisement
Do you love movies?
Do you want to take a film class, but don't have the time?
Do you have the time (you must or you wouldn't be reading this rag), but don't have the $40,000?
Well, do I have the answer for you.
The Miss Piggy Stay At Home, 90 Minute,
Two Dollars and Fifty Cents School Of Film.
This course is taught by Yoda himself, Frank Oz. There are no books to buy. All you have to do is rent Bowfinger on DVD with director's commentary. The class can be found at most video rental stores around the country near the pork rinds and right next to Jeff Fahey's Body Parts.
Lessons Learned:
... Lighting: Source vs. artificial
... Titles: How should they interact with the characters?
... Reshoots: How to make them seamless
... Pacing: How the keep the plot moving
... Writing: When to make changes, when to stick to your guns
... Location: Sound stage or real
All this and much, much more!
If you act now you will get, at no extra charge, Steve Martin and Eddie Murphy's best comedy in years.
Not enough? We'll even through in Heather Graham. Heeeeeeeello Nurse.
*Viewing this move does in no way guarantee you a job in Hollywood. It doesn't even guarantee you a job at Blockbuster. After all, it is taught by the same director of HouseSitter.