Stop! Children. What's That Sound?
David Crosby's Sperm Goes On West Coast Tour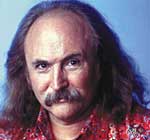 The greatest rock and roll revelation since Rob Halford revealed that he wore the crotchless leather chaps outside of Judas Priest came with the news that rock legend/Hook co-star David Crosby donated his seed to Melissa Etheridge & Julie Cyphers. Cyphers.
What was even more surprising was the unlabelled manila envelope delivered to the legitimate news organization located next to the RTC offices. We couldn't resist sneaking a peek, so imagine our shock when we found a laundry list of even more Hollywood starlets whose offspring are starting to show signs of musical talent and liver trouble.
To the right are five of the names on that list while on the left we display the most explicit example of the incestuous nature of Hollywood- Lou Diamond Phillips on the town with Jan Crosby, David's wife.